HORIZON EUROPE
Horizon Europe, the 9th European Framework Programme funding research and innovation, was launched on 2nd February 2021 with a budget of €95.5 billion to spend over a seven-year period (2021-2027).
The programme is structured in three pillars:
Pillar I - Excellent Science: aims to increase the EU's global scientific competitiveness and it supports frontier research projects driven by top researchers through the

European Research Council

, funds fellowships through

Marie Sklodowska-Curie Actions,

and invests in world-class

Research Infrastructures.

Pillar II - Global Challenges and European Industrial Competitiveness: supports research relating to societal challenges and reinforces technological and industrial capacities through

six different clusters

. It also includes the

Joint Research Centre

to support EU and national policymakers.
Pillar III - Innovative Europe: aims to make Europe a frontrunner in market-creating innovation via the

European Innovation Council

. It also helps to develop the overall EU innovation landscape through the

European Institute of Innovation and Technology

.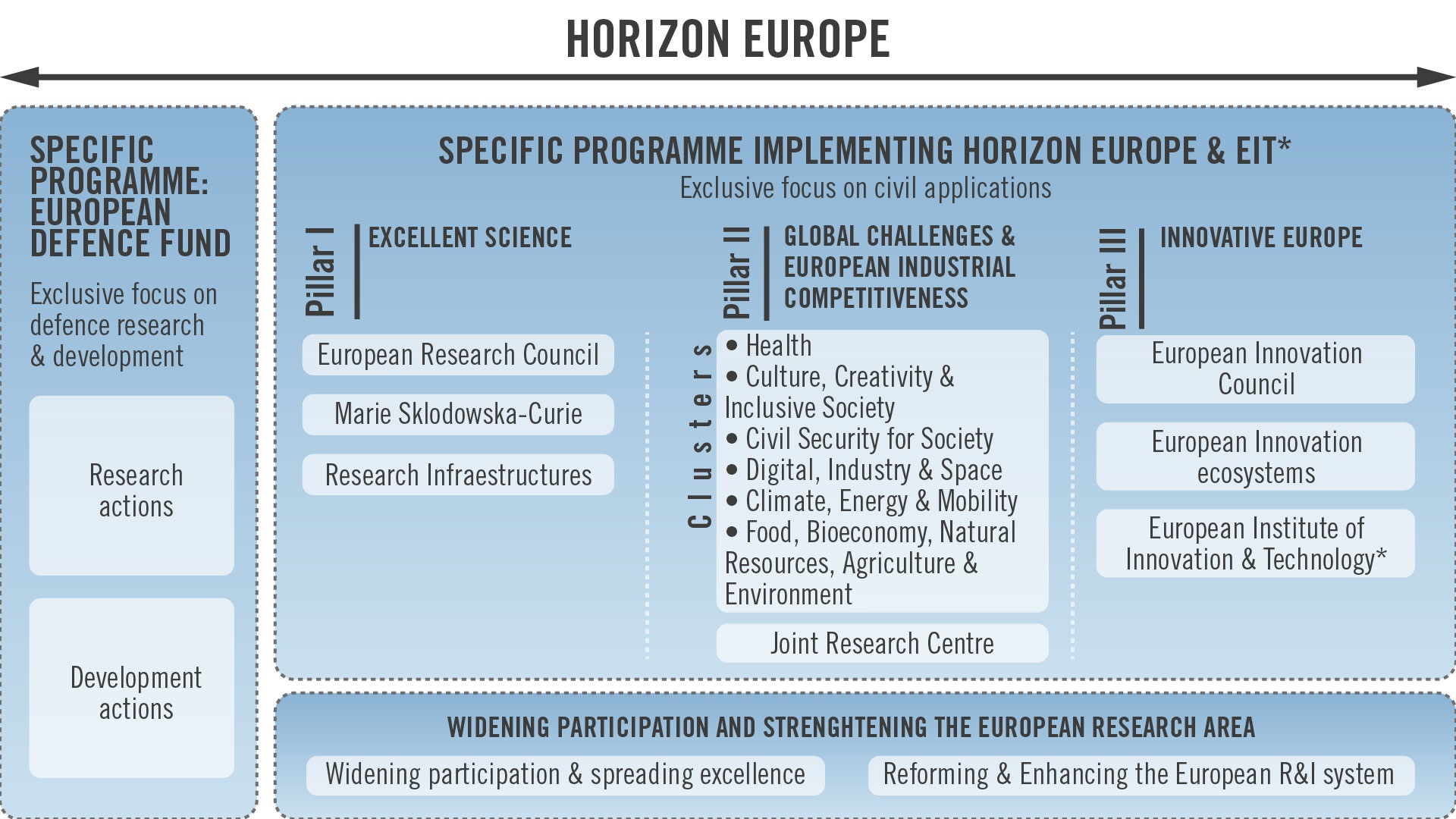 Source: European Commission
What's new?
The European Innovation Council supports breakthrough innovation as part of Pillar III.

A new element is the five EU-wide research and innovation Mission Areas that deliver solutions to societal challenges: (1)

Adaptation to climate change;

(2)

Cancer;

(3)

Oceans, seas, coastal and inland waters;

(4)

Climate-neutral and smart cities

; (5)

Soil health and food

.
European Partnerships will be streamlined and consolidated (private sector, foundations and other stakeholders), to deliver on global challenges and industrial modernisation. There are three types of partnerships: (1)

Co-Programmed;

(2)

Co-Funded;

(3)

Institutionalised

.
Strengthening openness through an Open Science Policy.
Simpler rules will increase legal certainty and reduce red tape for funding recipients and programme managers.
Synergies across EU programmes to increase the R&I impact.
For further information, see the European Commission's page on Horizon Europe