Recycling
"Closing the loop" in the industrial plant is one of the main targets of this research line. Recycling should begin already in the origin, meaning that industries should be able of reentering valuable recycled residues in the production line, instead of paying third parties for removal of wastes containing useful elements.
On the basis of the high demand for permanent magnets (PMs), recycling of the residues generated in the manufacturing process is beneficial from an environmental point of view but also economically interesting to reduce costs at the permanent magnet company while additionally guaranteeing sustainability. One of the main results that we have achieved in close collaboration with the PMs company IMA S.A. (Barcelona) is the recycling of ferrite residues generated during the fabrication of ferrite-based magnets. Ferrites are the most widely used PMs throughout the world, which account for about 90wt.% of all PMs on a weight base. Traditional uses are foreseen to expand by improvement of their properties through the application of phenomena at the nanoscale. The study has been published in one of the prestigious journals from the American Chemical Society [ACS Sustainable Chem. Eng. 5, 3243 (2017)] and shows two highlights closely interconnected and of importance from fundamental and technological points of view:
(i) Possibility of tuning microstructural and magnetic properties in ferrite powder, making possible the upgrade of a low-to-high quality magnetic ferrite powder. In this manner, saving costs are guaranteed for the company.
(ii) Successful recycling of ferrite powder residues.
Among the industrial highlights that have allowed scalability and implementation, the following ones can be remarked:
(a) The recycling process makes use of the facilities already existing in the company. No chemicals need to be added in the process.
(b) The parameters comprising the recycling process are comparable to those used in the processing of the ferrite starting powder.
(c) The magnetic quality of the recycled material is by far superior to that of the starting brand new material, resulting in a more competitive product.
The developed process guarantees sustainability by demonstrating a recycling method that can be cost-efficiently implemented in a permanent magnet manufacturing plant.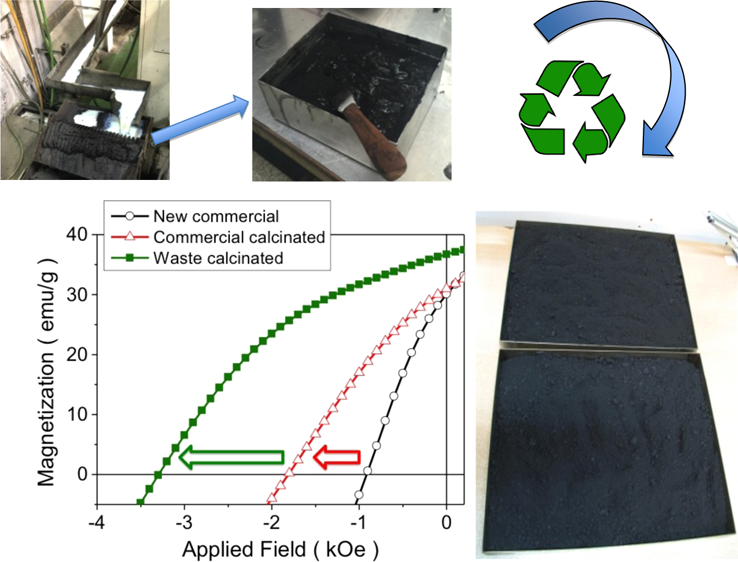 Figure 1. The quality of the recycled ferrite powder has been tested and compared to that of the new starting ferrite material. The magnetic properties of the recycled powder not only match those of the starting material acquired by the company for the production of magnets but exceed them. A coercivity value 3.5 times larger than that of the new starting ferrite powder, accompanied by a 25% increase in remanence, makes this material a new and improved ferrite product to re-enter the production chain in the factory with an extended applications range.